What is Cecostomy? A cecostomy is a catheter that is inserted into the cecum (first portion of the colon). Patients with fecal incontinence (or their caregiver) can use the cecostomy to administer a small-volume enema followed by a saline enema to quickly and completely evacuate and cleanse the large intestine, emptying through the anal opening. In this way, potentially embarrassing accidents are avoided, and the patient often gains greater independence and freedom to pursue activities previously prevented by fear of incontinent episodes.

How is the procedure performed? This is a minimally invasive procedure involving insertion of a temporary cecostomy catheter (C-tube) into the patient's cecum using imaging guidance (picture#1 below). After the tract is formed (approximately 6 weeks later), the patient returns for a short, simple outpatient procedure to replace the temporary catheter with a tiny more permanent tube (2nd picture below).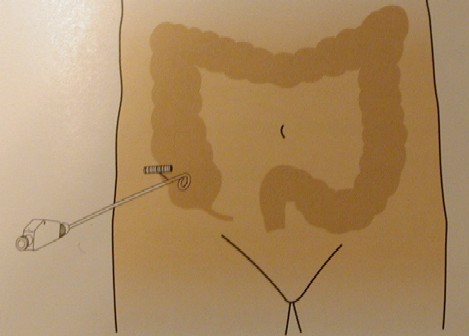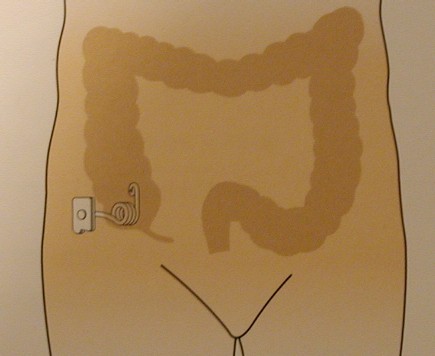 Benefits of a Cecostomy? Antegrade colonic enema cecostomy technique is much more effective than other techniques, significantly improving resolution of incontinence, resulting in fewer accidents and many patients no longer wearing diapers. The cecostomy tube is esthetically appealing, comfortable, allows increased mobility, socially accepted and gives patients the ability for activities such as swimming without hesitation.
More on-line Information? Please visit http://cecostomy.com
Candidates for Cecostomy
Spina bifida
Imperforate anus
Myelomeningocele
Cloacal anomalies
Vater Syndrome
Sacral agenesis
Paraplegia
Klippel Feil Syndrome
Alternative techniques
Diet modification
Laxatives
Manual expression
Disimpaction
Bowel training
Biofeedback
Suppositories
Electrostimulation
Retrograde enemas